Commercial Hospitality & Industrial Laundry Service
Central Linen Park Pvt. Ltd. (CLPPL) is the single largest commercial laundry service provider in Delhi NCR with capability to service the hospitality industry in Jaipur as well, owing to its strategic location at Bhiwadi. Leading hotels and other institutions can count on CLPPL to consistently deliver the same impeccable level of service.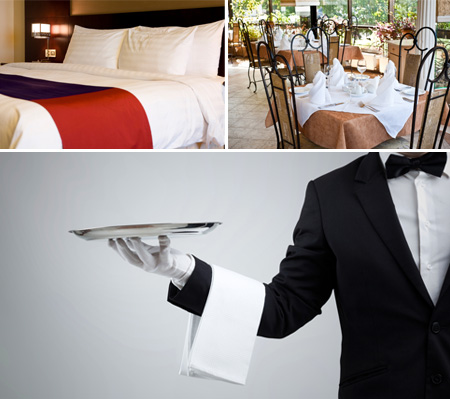 Central Linen Park will use sustainable practices while processing up to 60,000 kgs of laundry daily, making us the largest commercial laundry service provider in Delhi NCR.
CLPPL has the required capabilities to enable it to process the following kinds of linen/garments from Hotels and other Institutions:
Room Linen – This would include bed sheets, pillow covers, duvet covers, towels (bath, hand and face), bath rugs, blankets/quilts etc
F & B Linen – This would include table covers, napkins and back-of-the-house linen like waiter towels, cook napkins, dish cloth, glass cloth, duster etc
Miscellaneous Linen – This includes linen from miscellaneous hotel services like pool/spa, health club, beauty parlour etc
Staff Uniforms – All kinds of staff uniforms from front office and back office staff like shirts, trousers, coats, jackets, suits, sarees, aprons, scarfs etc
The CLPPL Hotel Laundry Cycle
The stages of operation in our facility would include
Step 1:

Collection

CLPPL shall organize to collect dirty linen/garments from the institution's premises as per their convenience, which will be transported to the centralized facility through the company's customized vehicles. At the time of collection, proper marking shall be ensured at the institution premises so that all the collected linen and garments are returned in a timely and effective manner, thus minimizing errors.
Step 2:

Sorting

Once in the facility, the received linen and garments will be carefully analysed and sorted on the basis of type and texture so that correct processing methodology can be applied. Well established sorting mechanism as done by CLPPL helps in batching and will play a very critical role in enhancing linen and garment life due to reduction in re-wash requirements. CLPPL will use a production-line method for soil sorting, with full-time employees assigned to the task.
Step 3:

Spotting

Post-sorting, each garment is thoroughly inspected for stains by our skilled staff who cleans the spot gently and carefully using specialised equipment and chemicals. As a standard procedure, all dry cleaning garments will go through a spotting process in addition to the other garments or linen that may require spotting.
Step 4:

Washing or Dry Cleaning

This is the stage in which the laundry is actually washed or dry cleaned according to the fabric and texture of the linen or garment. The sorted linen is weighed according to the washing machine's load limit and loaded onto the machine. Along with stand alone washer extractors, CLPPL has installed a Continuous Batch Washer / Tunnel Washer which monitors its own chemical levels and unload linen directly into the laundry's "clean area"; the operator only loads the linen. Since the tunnel washer doesn't have to be stopped for loading and unloading of linen, it provides a more continuous, automated flow of clean laundry.

The dry cleaning machines have the necessary capabilities to dry-clean all kinds of garments, whether heavy or delicate.
Step 5:

Drying, Ironing and Folding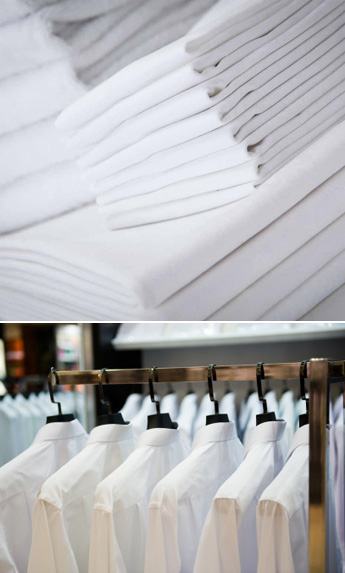 In this stage, the clean linen and garments are dried, ironed and folded. Towels are put through dryers and then sent to automatic folders. All linen (except towels) i.e. bed sheets, pillow covers, duvet covers, napkins, table cloths etc. are sent through an automated ironing line that dries, presses, folds and stacks them.
All garments are pressed on specialized, multiple presses that ensure the crisp and highest quality finishing of garments.
Step 6:

Packing

In this step, the processed linen is prepared for delivery. Individual orders are filled, based on the needs and requests of the laundry's customers, and then sent to the laundry's main packing area which packs the linen using air tight packing to prevent the linen from coming in contact with any foreign matter

The garments will be delivered in folded packages or put on hanger, as desired by the customer and bagged properly.
Step 7:

Delivery

In this step, manpower specially trained in both laundry operation and the principles of good customer service will transport the clean linen back to the customers in specially designed, customized delivery vehicles.

CLPPL while designing the above process has adequately responded to the requirements of high level of processing automation, well trained and skilled operators, highest quality of raw materials and most modern technology laundry equipment.