Why Laundry Outsourcing Is a Great Business Move for Your Hotel?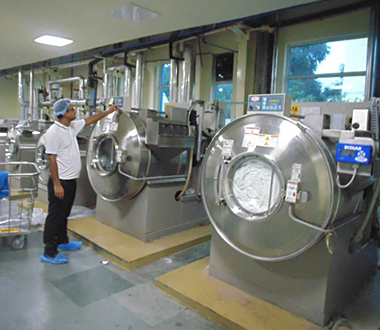 As tourist trade booms in India, hotels are slowly beginning to implement innovative practices to serve customers and maximize their business. In any hotel, laundry and housekeeping are two extremely crucial functions. They require a lot of hard work and often involve high recurring expenditures. A large number of hotels are now outsourcing their laundry and it is helping them manage the increasing number of customers and serve everyone effectively.
As far as customer experience is concerned, it is the small things that go on to leave a lasting impression. When your guests return to the hotel after a tiring day of sight-seeing or an important business meeting, they want something soothing that comforts them. Laundry quality has a huge impact on their mind and it goes on to decide, whether they will return to a hotel or not. A reliable laundry outsourcing service will always give your hotel the best and make sure the linen is fresh and spotless.
In this blog, we have listed down some key advantages, which make laundry outsourcing a good business move.
1. Letting hotels focus on their main services - The main focus of hotels is maintaining a high standard of hospitality; the laundry operations are always a bit lower on the priority list. A few decades ago, hoteliers preferred in-house laundry operations, but the market has become extremely hyper-competitive now reducing the profit margins of the hotels. This has forced them to choose laundry outsourcing services to cut down costs and reduce the pain of continuous maintenance.
2. Reducing the major costs - In an increasingly competitive market, hotel owners are always looking to cut down costs to stay profitable. The cost of labour as well as utilities is too high and laundry outsourcing removes this completely. There is no need to buy automated equipment as well, which involves substantial maintenance costs. Outsourcing is the right move and it is a smart upgrade.
3. Eliminates the need of training - Training the staff to perform the laundry services requires a huge investment of time and money. Professional commercial laundry services are not only experts in handling the day-to-day activities, but they are quite consistent too. By eliminating the lengthy training procedures, hotels can maximize the turnover and make their guests happy at the same time.
4. Advantageous for existing as well as upcoming hotels - By choosing a proficient commercial laundry service, both existing and upcoming hotels can gain advantage. For hotels, which already have an in-house laundry service, the operating and maintenance costs often become too much, keeping aside the depreciation on laundry equipment. Efficient commercial laundry services tackle this proactively and help hoteliers cut down the costs. Similarly, upcoming hotels can outsource their laundry, right from the beginning to save & better utilize the space to be given to set up the laundry and eliminate the pain of periodic maintenance. Hotels would rather make a banquet hall / restaurant instead of utilizing the space for an in-house laundry.
The industry is changing and hoteliers are making smart business decisions. Laundry outsourcing is easy, convenient and affordable; you just need to find a company you can trust.