Top 3 Reasons Why Spa Industry Needs Commercial Laundry Outsourcing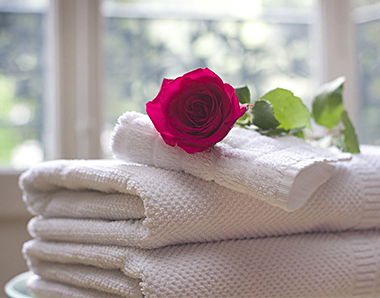 Our hectic schedule sometimes doesn't allow us to breathe which leads to several stress issues and muscular and orthopaedic ailment in the long run. This is one specific reason why you should have a spa therapy at least once a week. An expert spa therapy can relax and rejuvenate both your body and soul. There are multiple luxury spas in Delhi NCR where you can truly indulge your sense and sensitivity. The rate chart and the package price might vary, but what can never be compromised on is the "cleanliness" factor and the premium ambience inside and this is the area where CLPPL can help the spa industry.
Here are 3 prime reasons why a spa business in Delhi needs commercial laundry outsourcing to give their clients a premium service with optimum hygiene maintained –
1. Clean, dry, aromatic clothes for the clients – Most of us consider spa as an unnecessary expense or a luxury, which is a partial truth. Let's pop the bubble first. Spa is an ancient remedial therapy that relaxes your nerves and body fibres. People usually take time and visit a spa and return with full vigour. A spa owner eternally looks for loyal clients and precisely re-visitors. First things first, the towels and linen they supply to their clients have to be clean and hygiene checked. Choosing the right kind of commercial laundry services in Delhi NCR, will get you a tension-free laundry basket. Get your clients fresh linen each time, every time.
2. Delicate and distinctive care for fabrics and linen – Dumping the wash load into a washing machine using the same wash formula daily is not the solution to clean the spa linen. For example – a doctor can't prescribe the same medicine to all his patients; then how would it be possible that the washing process of linen, fabric, and wool can be the same? Don't stress. Trust us on the delicate and bulk washing part. #CLPPL offers the best dry cleaning services in Delhi NCR with intensive fabric care solution. We provide the most advanced and reliable laundry care service in Delhi NCR.
3. No wash load, no tension – However heavy your wash load is, that insurmountable mountain can be moved easily with just outsourcing your laundry. Also, get your laundry basket a trusted protection from the top industry experts. At #CLPPL, we have a large infrastructure, well-equipped with advanced machinery which has a daily capacity of processing 60,000 kg load. CLPPL is equipped with fully automated laundry equipments which can wash different types of clothing materials with quality assurance.
On-time delivery is also a prime concern for a spa owner. Hiring the best commercial laundry and dry cleaning service can actually wipe off your headache. Hiring #CLPPL, as your commercial laundry partner can save you from all your laundry related woes and worries evermore.
Give complete relaxation to your clients, for cost-effective laundry solution and wash related issues, we are listening!
Call us to collaborate - +91 9560792972